Shopping Cart
Your Cart is Empty
There was an error with PayPal
Click here to try again
Thank you for your business!
You should be receiving an order confirmation from Paypal shortly.
Exit Shopping Cart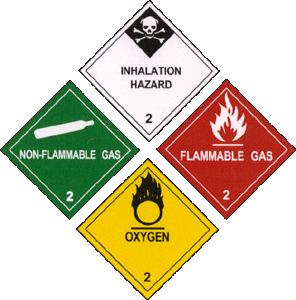 American Cylinder and Safety, LLC
The Industry Leader in Compressed Gas HAZMAT Training
I attended a trade show for the Scuba industry in Dallas, TX last week. After walking around and talking all weekend, I was amazed by the amount of dive operations that either did not know about OSHA requirements to train employees on the new OSHA HAZCOM/GHS system, or had not done it yet. For those not aware, OSHA revised their Hazardous Communications standard to reflect the new Global Harmonization Standards (GHS) and required all businesses that handle hazardous materials to provide training to their employees no later than 1 December, 2013. GHS now mandates the format for Safety Data Sheets.  Additionally, it now includes new safety pictograms to highlight chemical hazards. For those that have not completed this training, that means you are year out of date. Many people in the compressed gas industry are not aware that they deal in HAZMAT.  To answer an often asked question, yes, any compressed gas, no matter what it is,  is considered HAZMAT when it is stored at pressures over 40psig. This is easily remedied though. Just do a Google search online and one will find different options for training. These options run from free, to over $1000, depending on what route you want to take. American Cylinder and Safety, LLC, in partnership with Professional Scuba Inspectors-Professional Cylinder Inspectors (PSI-PCI) has a great program that is both inexpensive, and covers the necessary information in a short period of time.  Our program is designed so that your employees can complete it on thier own time as long as they have access to a computer.  Please, protect your employees, and your wallet from potential incidents, accidents, and fines. Feel free to contact me, and I can help answer any questions you may have.
| | |
| --- | --- |
| Posted on February 3, 2015 at 2:05 PM | |
To the relief of divers around the USA, thier PST Tanks falling under the Special Permit/Exemption 9791 have been reapproved for use by the Dept. of Transportation.

The US Department of Transportation renewed the PST cylinder permit 9791 through the end of the year 2018. Many industry members, divers, and retailers had been concerned about this permit expiring due to the large number of PST cylinders currently in use in the dive industry.
Had the permit not been renewed, all cylinders marked with that specific permit number would no longer have been authorized for use and would have needed to be immediately removed from service. The USDOT action today eliminated that situation for another 5 years.
A copy of the new special permit can be found on the US DOT Website (http://www.phmsa.dot.gov) or by emailing American Cylinder and Safety at [email protected]

/